Belden is a global high-tech company with about 750 employees at their cable manufacturing plant in Richmond, Indiana and 100 employees in Indianapolis.
Over the past four years they saw their pre-employment drug failure rate climb from 5% to 15%. When their board and senior management got together with community leaders and local healthcare and addiction experts in Richmond, Indiana, a new initiative called Pathways to Employment was born. The program aligns with two of Belden's key values: We Invest in Talent and Continuous Improvement is Our Way of Life.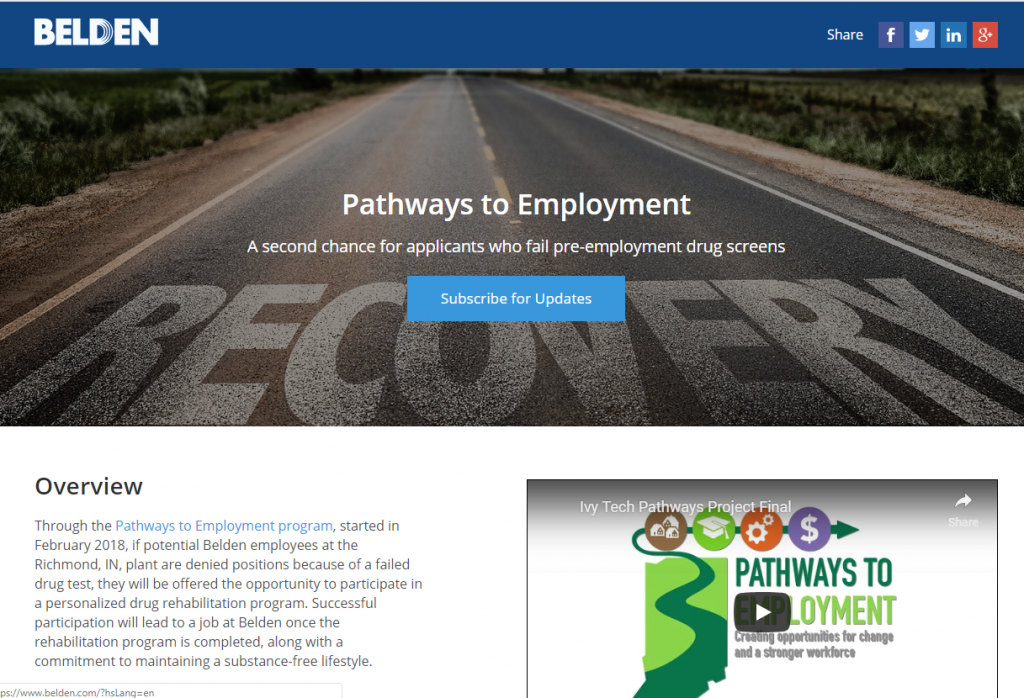 Pathways to Employment offers a personalized drug rehabilitation program to potential employees who have failed a drug screen, and to those who complete the treatment and maintain lives free of substance abuse – a job at Belden.
Program Stats
Since the program started in February of 2018,
23 people have gone through treatment:

7 dropped out
8 in recovery and working employed on machines. Initial not start on machines and random tested
8 in treatment
Not only has this program helped incoming job candidates, once current employees heard of it, they also sought the help of Belden. As an employer, Belden benefitted from this experience as well, learning of the challenges of being out of work during the lengthy treatment period.
Belden is considering expanding the program to its other facilities and welcomes those interested in adopting a similar program.
For more information